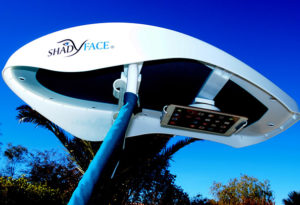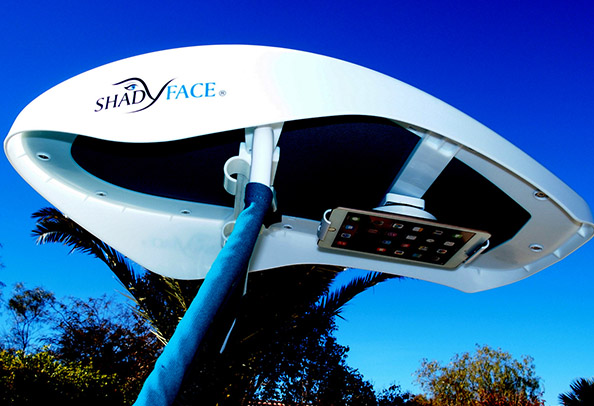 ShadyFace Sunshade is the world's only travel sunshade canopy designed to offer shaded viewing for electronic device entertainment under every canopy. ShadyFace tablet holders secure devices under the canopies for the best "hands-free" viewing pleasure without the sun's interference!
ShadyFace is a SPU50+ portable technology travel sunshade canopy offering entertainment when using e-readers, e-books, Kindles, Nooks, etc. Movies & games or business e-mails can be viewed from Apple, Android or Samsung devices. ShadyFace Sunshades designed by Patricia Darquea, patented these travel canopies to apply on outdoor lounge recliners, chairs or the ground for self adjusting upper or full body shade coverage. Instant shade relief can now be achieved to avoid the sun's penetration onto the body or to the electronic screens thanks to the patented unique swivel canopy which secures all electronic media with ShadyFace tablet holders.
(2) children or (1) adult can nap or cool down under ShadyFace while keeping entertained with over 15,000 popular apps, games, videos, books, PBS Kids, Nickelodeon, Disney movies, NetFlix, YouTube, all with shaded viewing! Great addition for beach shade, lake shade, park shade, boat shade or backyard shade protection under ShadyFace! All I-Pad 1/2/3/4 air & most 8.9" – 10.4" tablets, Nooks, Kindles, Fire, Samsung Galaxy.
ShadyFace travel anywhere since they fold flat inside their carry bags as carry-on's for large aircrafts, road trips, cruise ships or holiday vacations to hotels & resorts.
Every portable ShadyFace sunshade comes equipped with a tablet holder; oversized carry bag; ground spikes and furniture belts.
Creator & Founder Patricia Darquea of ShadyFace International Sun Protection Brand provides ShadyFace Bluetooth Speakers to critically-ill children in the Ronald McDonald Houses and raises money for public & silent auctions with her ShadyFace Technology Sunshades. "Our corporate goal is to create happiness in their hearts with music and fun entertainment during their healing process.The greatest feeling is giving to organizations & foundations, which are dear to my heart. If I can be the voice to raise awareness, then I've done my job" says Darquea.