What Is ShadyFace?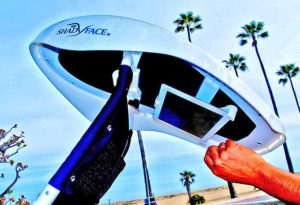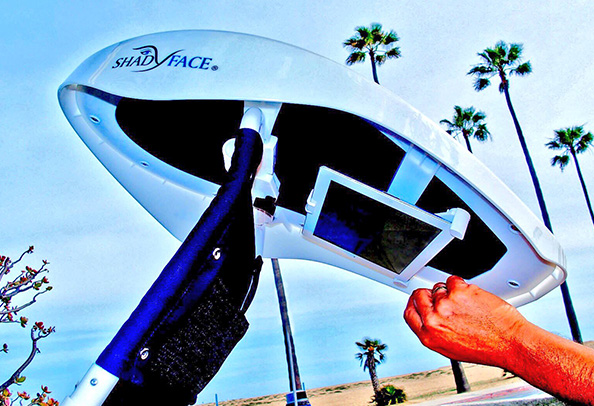 ShadyFace is a SPU50+ portable technology travel canopy sun shade. It's the only patented outdoor shade protection on the market today offering instant shade relief anywhere with the capability to view electronic media tablets under ShadyFace.
These patented, adjustable canvas canopies allow consumers the ability to self adjust shade necessary for upper or full body protection.
Every ShadyFace includes a tablet holder to secure IPads, IPhones, E-readers and E-Books to shade all electronic screens from the sun under every canopy. Simply secure the ShadyFace tablet holder for "hands-free" movie entertainment, learning Apps, or e-mails.
All ages stay cool & heat protected when relaxing with entertainment outdoors.
ShadyFace secures onto lounge recliners, chairs or ground for adjustable shade coverage with its patented, swivel canvas canopy to shade and protect the body and electronics.
ShadyFace Sunshades come equipped with a tablet holder; over sized carry bag; ground spikes and furniture belt. ShadyFace Sunshades are great additions for air travel as a carry-on, road trips or holiday vacations in hotels or Island resorts.
Perfect for (2) Infants, toddlers or children and (1) adult can lye or sit under ShadyFace for heat relief when napping or entertaining with over 15,000 popular apps, games, videos, books, PBS Kids, Nickelodeon, Disney movies, NetFlix or YouTube for shaded electronic viewing!
Great addition as a beach shade, lake shade, park shade, boat shade or backyard shade protection with ShadyFace! Terrific for I-Pad 1/2/3/4 Air & most 8.9" – 10.4" sized Tablets, Nooks, Kindles, Fire, and Samsung Galaxy.