ShadyPaws Pet Travel Canopies
What are ShadyPaws Pet Canopies
These light weight, flat folding, ABS plastic sunshades offer a cool …
ShadyPaws Pet Travel Canopies
What are ShadyPaws Pet Canopies
These light weight, flat folding, ABS plastic sunshades offer a cool …
Portable Pet Shade Protection
Keeps pets cool, shaded & ventilated
Providing a familiar environment for shaded comfort & security when relaxing outdoors
Multiple Use: Ground / Chairs / Lounge Recliner Shades
Great for outdoor restaurants, beaches backyards, parks, etc.
SPU 50++ Adjustable swivel canopy for full sun protection
Multiple Velcro pockets to hold leashes, treats & all necessities
Flat folding, light weight, airline carry-on
Material snaps on/off for light cleaning with gentle cleaning products
Canvas bag, sand pikes, furniture belt included
Assembled in USA / Parts made in China
Shades (2) Small Pets / (1) Large Pet
Dimensions 26″ x 5″ 21″ – Weights 8.81 lbs
Always carry water when outdoors with your pets!

"Opening and Closing"
ShadyPaws Portable Pet Sunshade Canopies"
ShadyPaws is perfect for any pet ….
the perfect atmosphere for their comfort and security!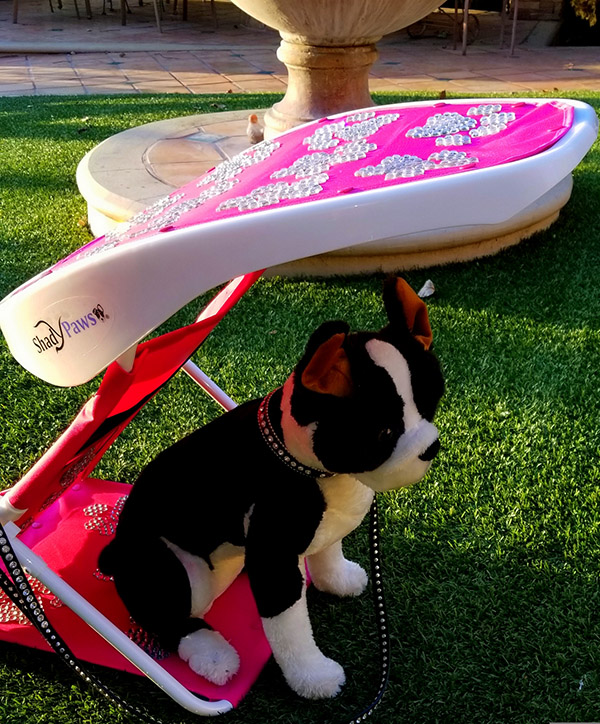 Special Edition
ShadyPaws with the rhinestones
Proceeds of sales goes into the Lisa Vanderpump Dog Rescue Foundation.
Creating awareness regarding the dog torture for meat trade industry.
Every person who buys this fuchsia pink pet canopy lavished in rhinestone paws is creating awareness to stop the black market dog meat trade industry and to save the animals from death by helping to rescue dogs from China.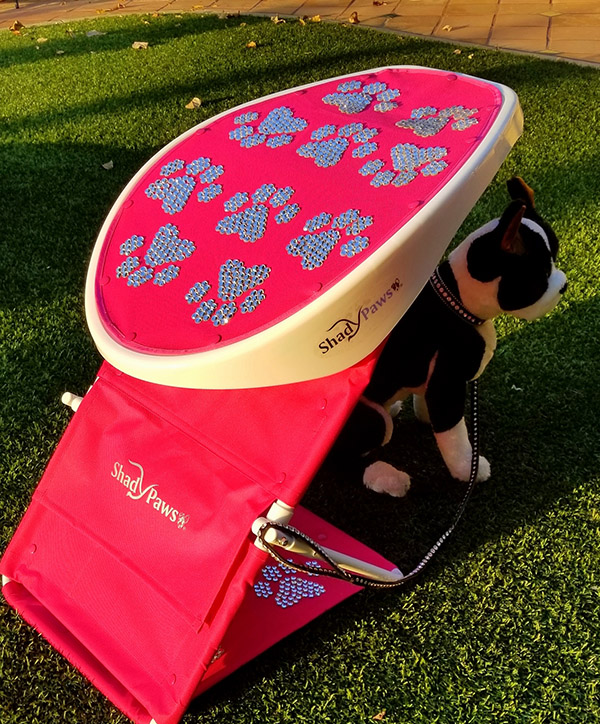 "ShadyPaws is the answer for shading all pet's at any location!…. Simply place them on furniture or the ground and see the difference immediately!"
Patricia Darquea
ShadyPaws, Inc. Inventor and Creator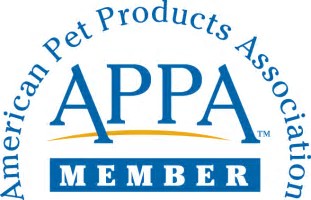 ShadyPaws,Inc. Certified Manufacturer for Pet Industry