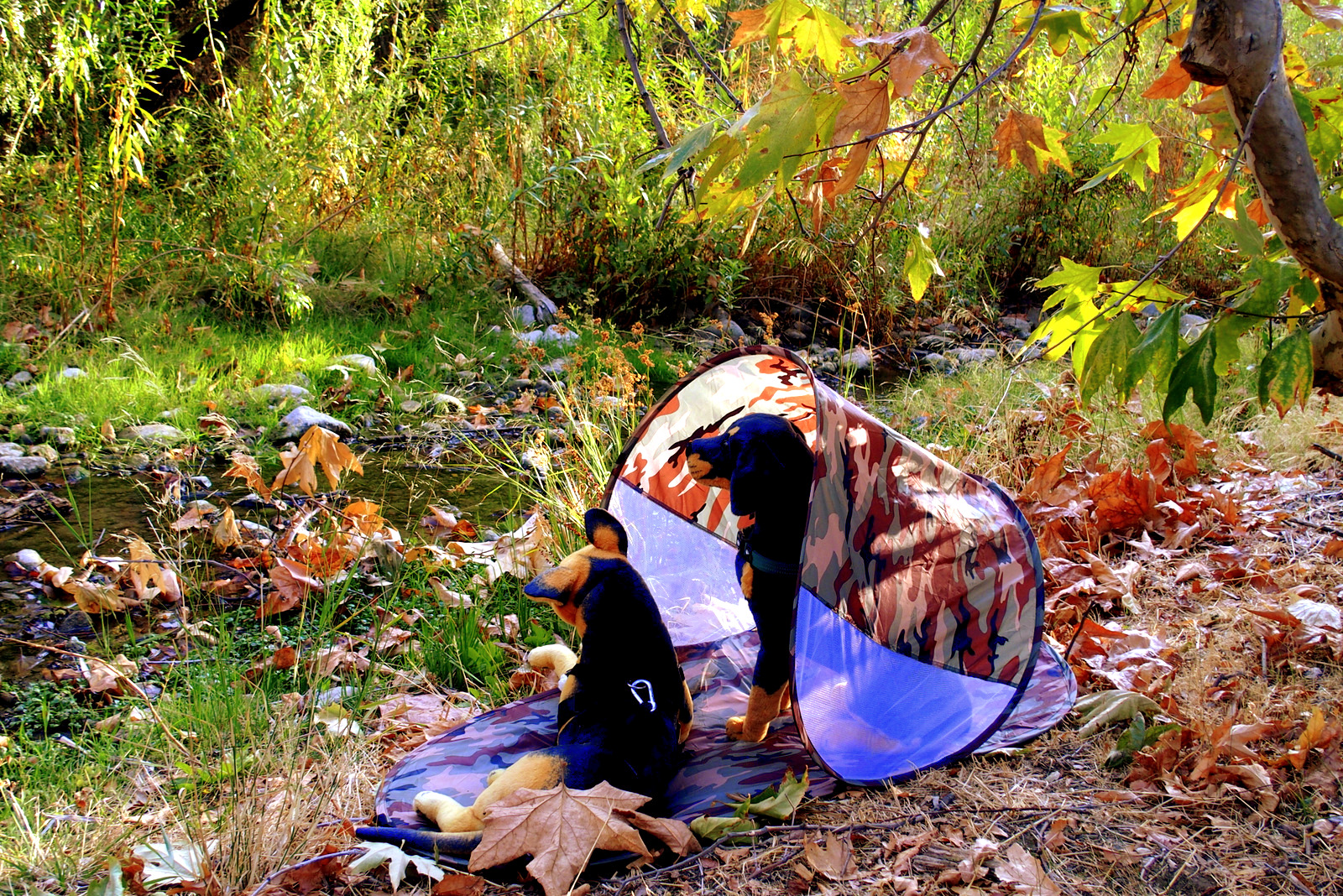 ShadyPaws,Inc. Tactical Dog Shade Tent.
Easy Carry. Flat folding.
SHOP NOW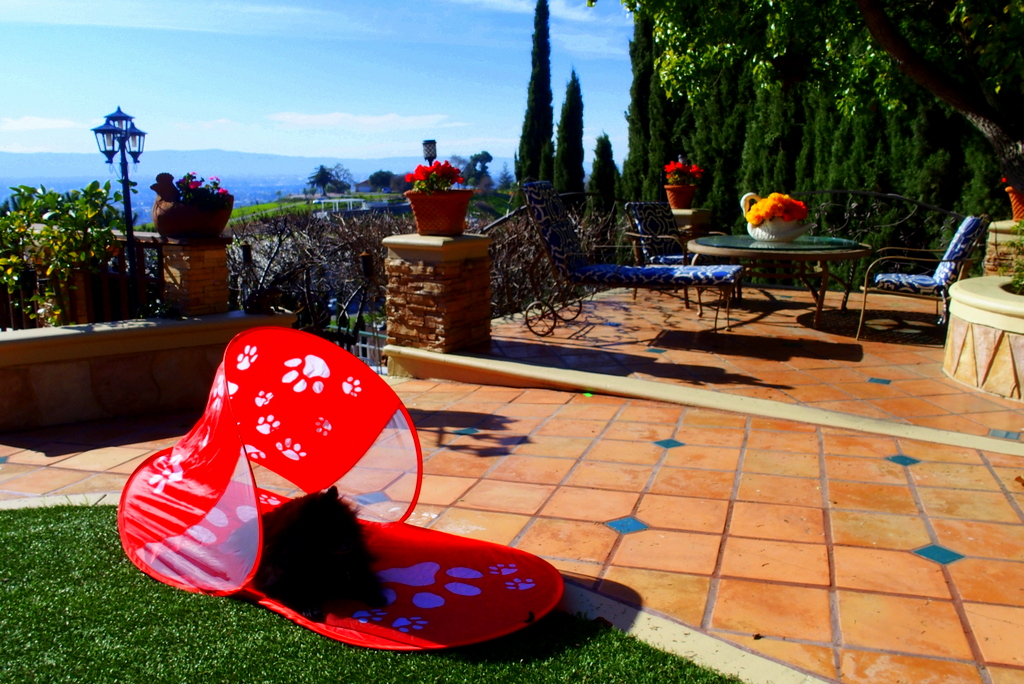 ShadyPaws Red Dog Shade Tents
are perfect for backyard relaxation!
SHOP NOW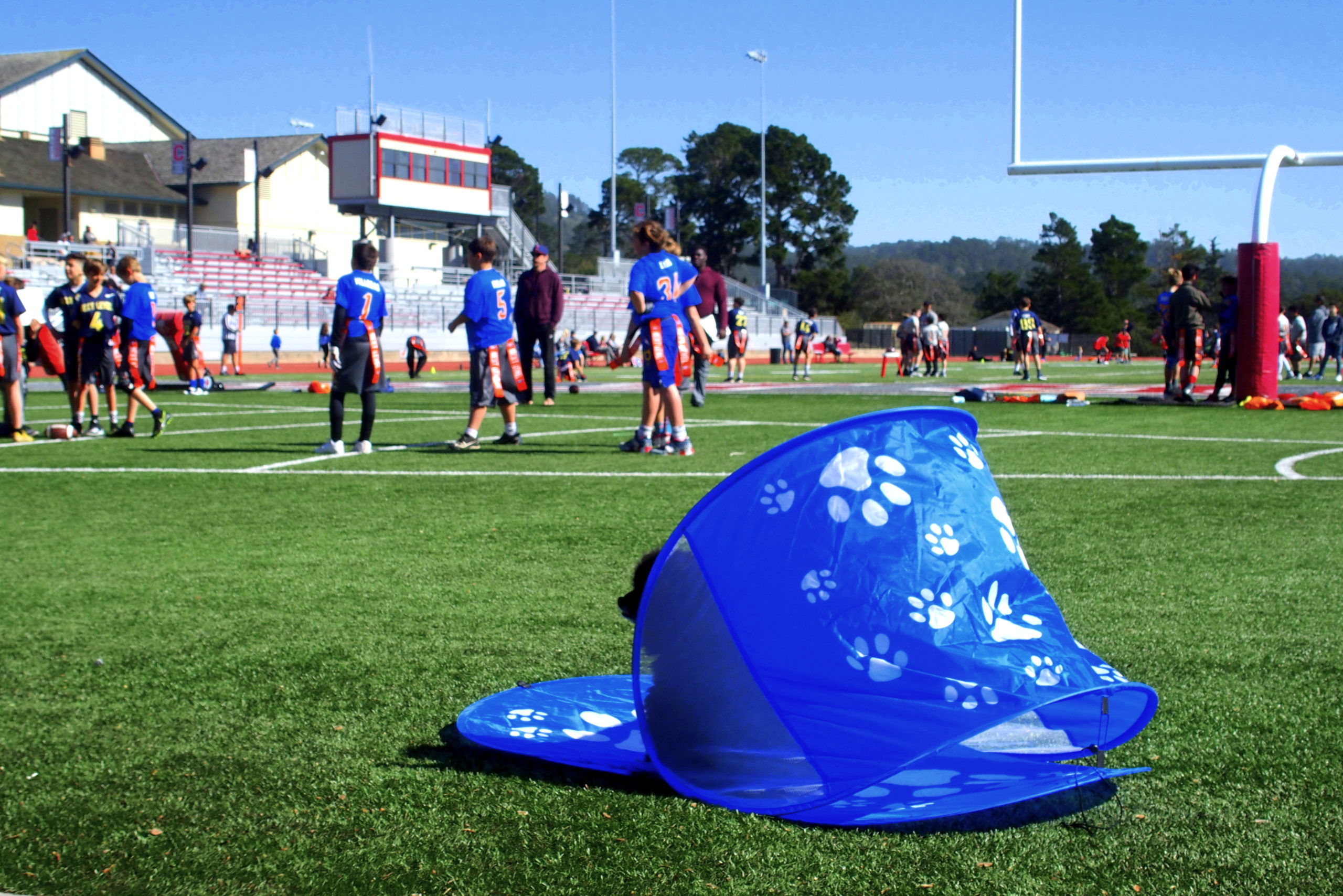 ShadyPaws Dog Shade Tents
keep dogs cool for all outdoor activites.
SHOP NOW

SHOP NOW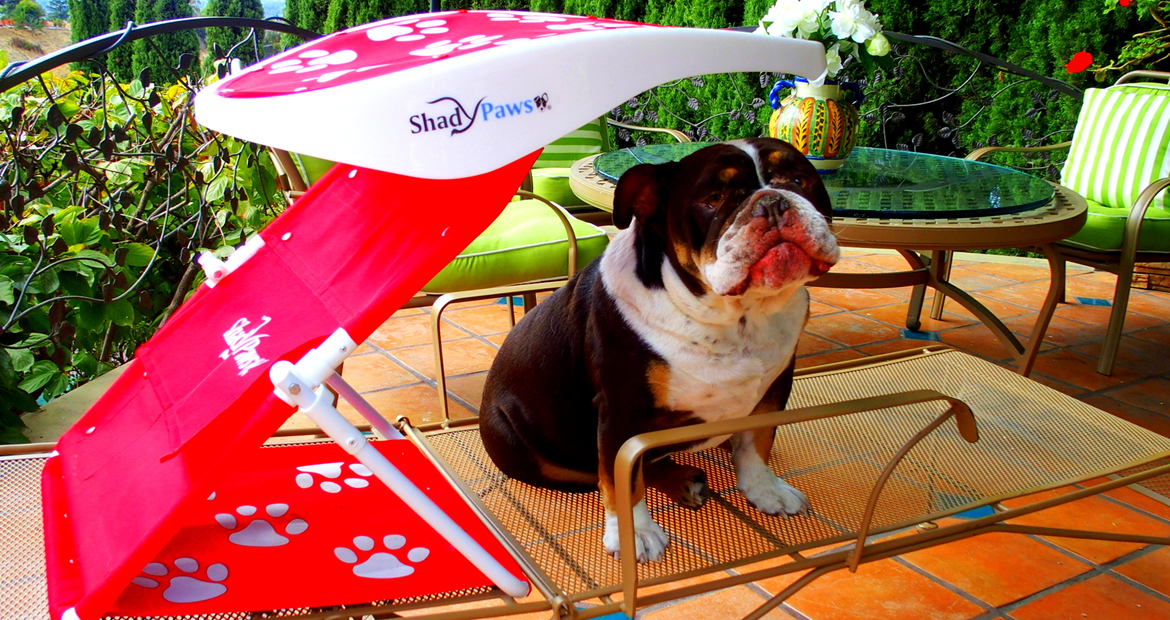 SHOP NOW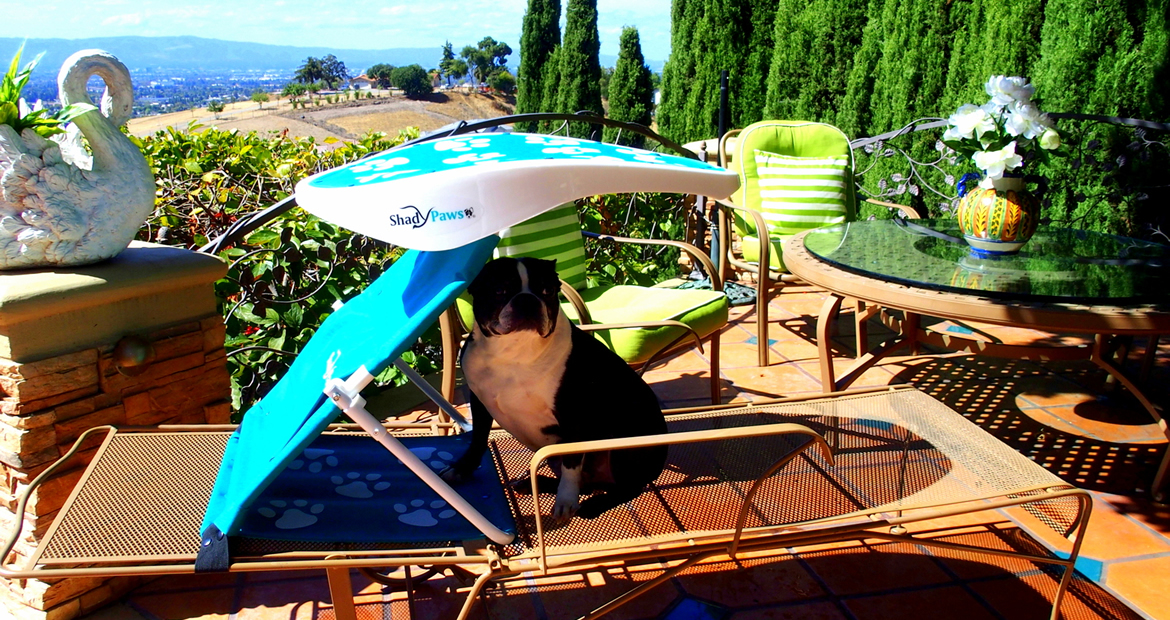 SHOP NOW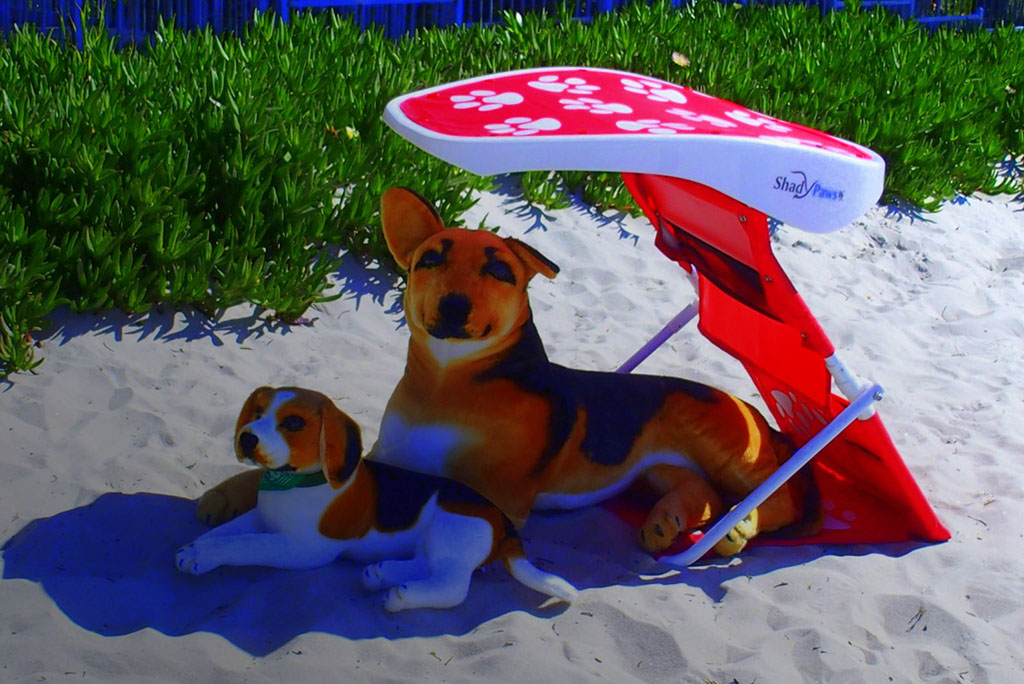 SHOP NOW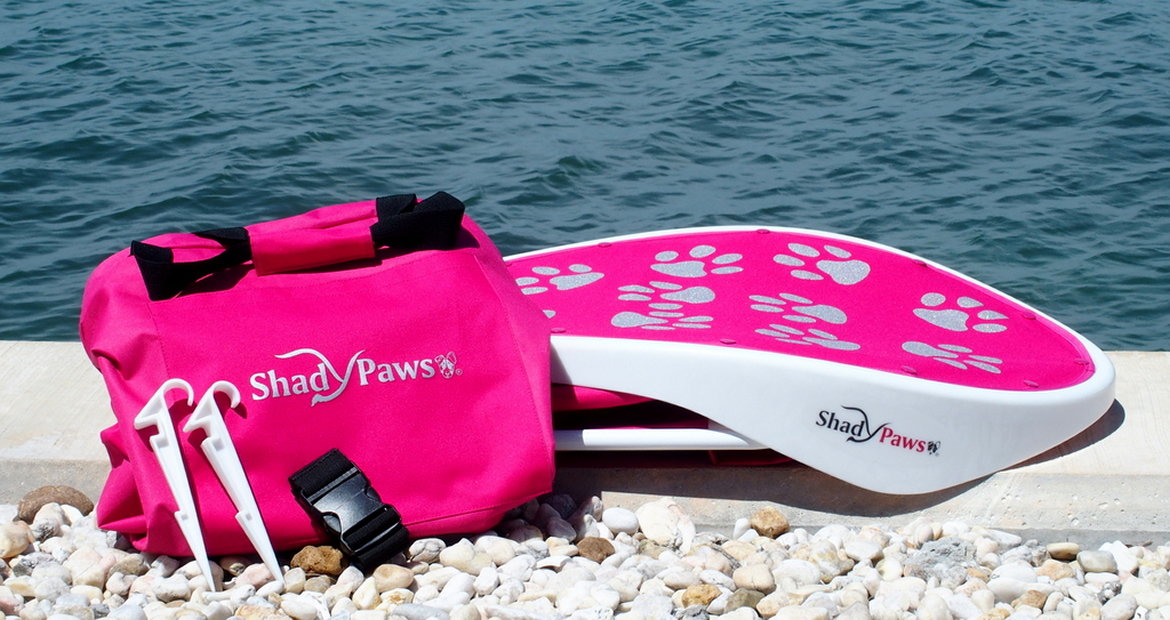 ShadyPaws Portable Dog Shade Canopies
Flat folding. Use in restaurants cafes, beaches or camping. Airline or vessel carry ons. Backpack, ground spikes, belt straps incl.
SHOP NOW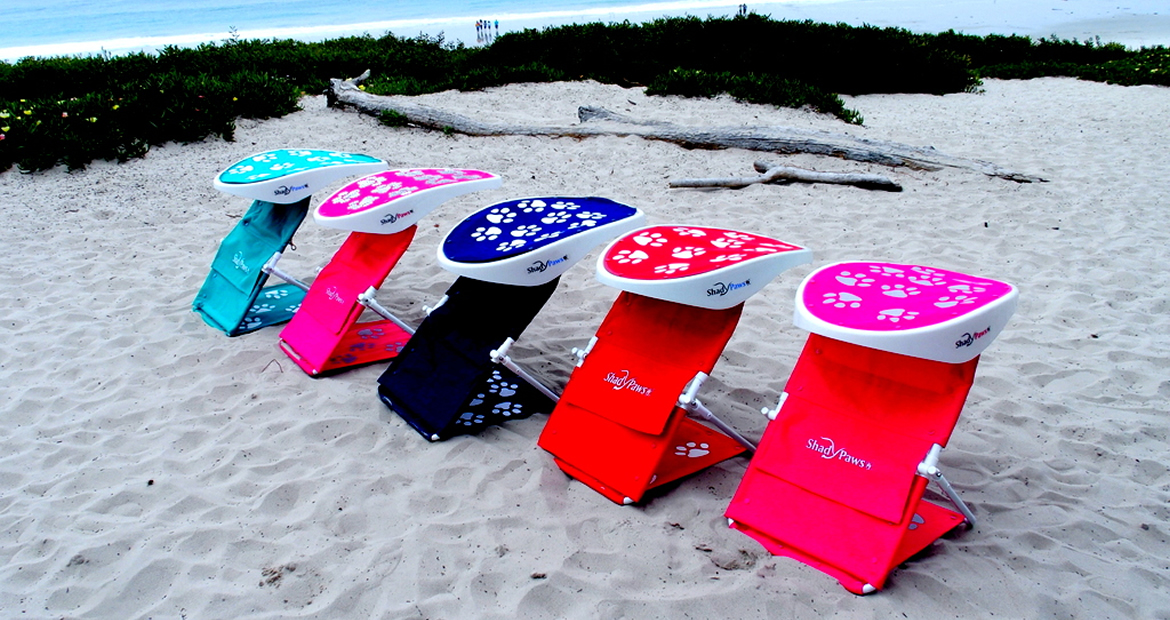 ShadyPaws Portable Pet Canopies
are a great addition for instant dog shade
Protect small or large pets from sun in outdoor restaurants, cafe's, beaches, boats or backyard!
SHOP NOW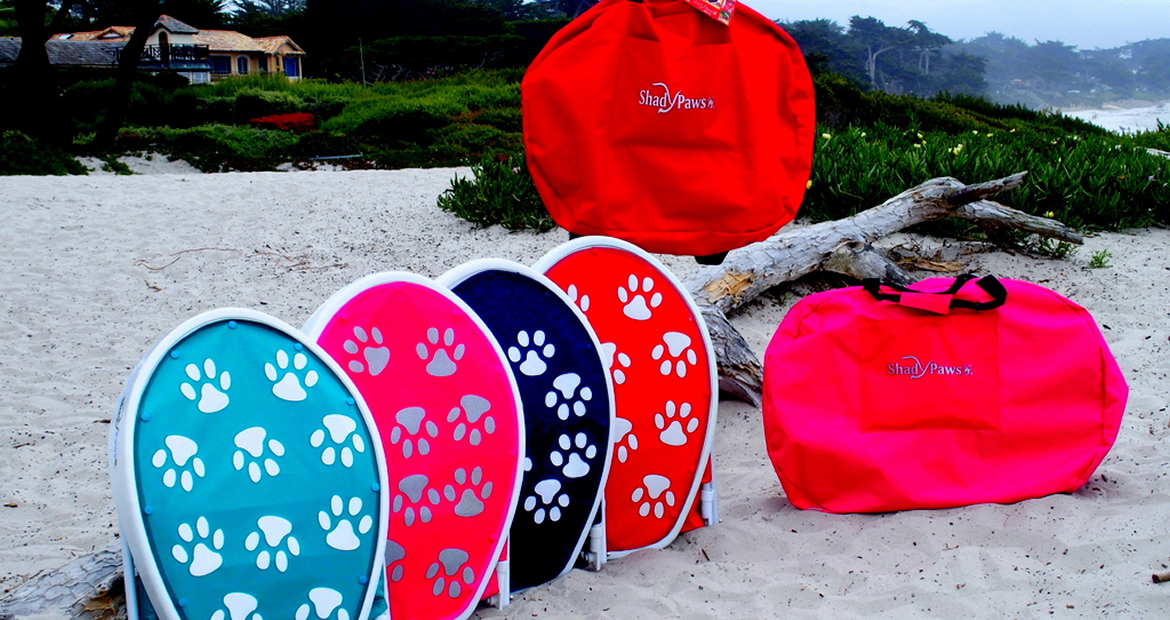 ShadyPaws Portable Dog Shades apply on furniture
or ground offering instant shade.
Rainbow of colors to protect dogs from sun.
Carry bag, ground spikes and belts included!
SHOP NOW


I love this product. Since I travel all the time with my German Shepard, I frequent places such as the beach and restaurants hotels and resorts where there is no shade. With the swivel canopy, it adjusts to, Ronny (my pet) when he lays next to me shaded with this product. I bought two. Gave one to my vet and she loves it for her two Pomeranian's. Great Idea. I fits in my camper since it folds flat.
I take my pet everywhere. Finding shade was always a problem. Now with this product I never worry about keeping my dog cool. The back pack is also convienient. Great idea.
ShadyPaws, Inc. are perfect for family's trips or business travel with dogs when flying to the Islands, resorts, hotels or vessels. ShadyPaws, Inc. can be brought on board as a carry-on in overhead compartments or on boats and yachts. ShadyPaws Portable Pet Canopy Sunshades are flat folding and portable when bicycling to the beach or venturing out to hotels and resorts with pets.
ShadyPaws Dog Shade
What is a ShadyPaws Dog Shade
These light weight, flat folding, ABS plastic sunshades offer a cool …
ShadyPaws Dog Shade
What is a ShadyPaws Dog Shade
These light weight, flat folding, ABS plastic sunshades offer a cool …
Dog Shade
Keeps pets cool, shaded & ventilated
Providing a familiar environment for shaded comfort & security when relaxing outdoors
Multiple Use: Ground / Chairs / Lounge Recliner Shades
Great for outdoor restaurants, beaches backyards, parks, etc.
SPU 50++ Adjustable swivel canopy for full sun protection
Multiple Velcro pockets to hold leashes, treats & all necessities
Flat folding, light weight, airline carry-on
Material snaps on/off for light cleaning with gentle cleaning products
Canvas bag, sand pikes, furniture belt included
Assembled in USA / Parts made in China
Shades (2) Small Pets / (1) Large Pet
Dimensions 26″ x 5″ 21″ – Weights 8.81 lbs
Always carry water when outdoors with your pets!

"Opening and Closing"
ShadyPaws Dog Shade"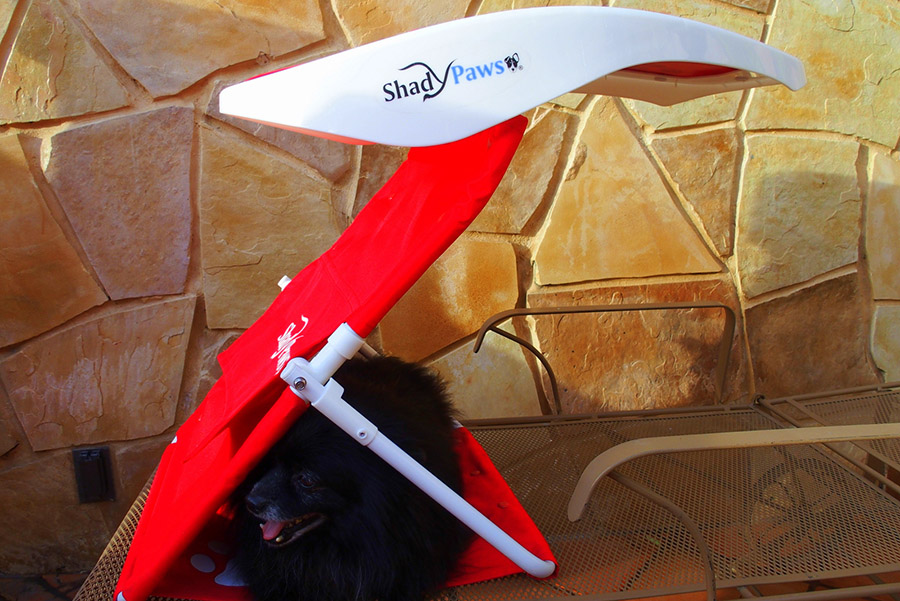 ShadyPaws Portable Pet Canopies can be placed on the ground or on outdoor furniture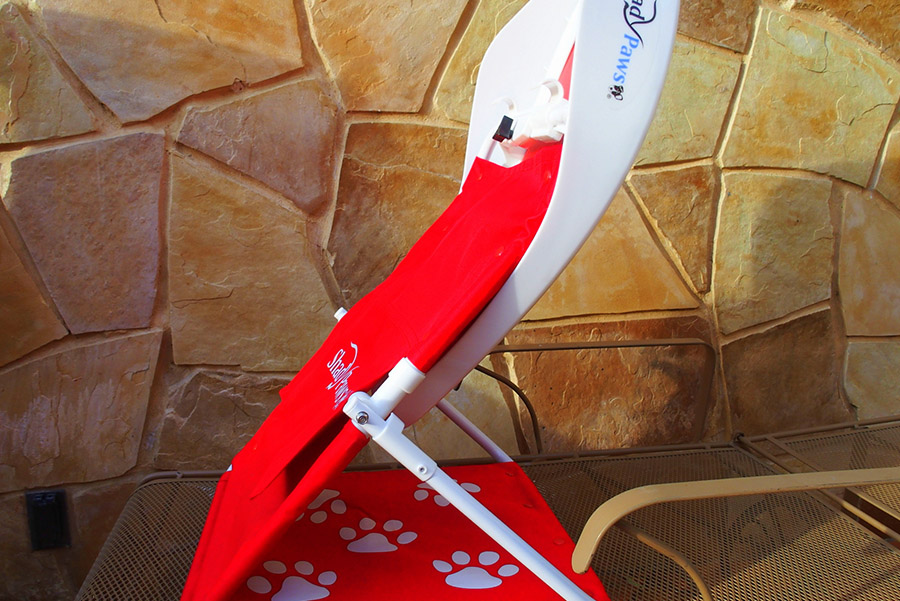 When closing ShadyPaws Pet Canopies, always begin by unlocking the swivel screw
and fold the ABS canopy downward.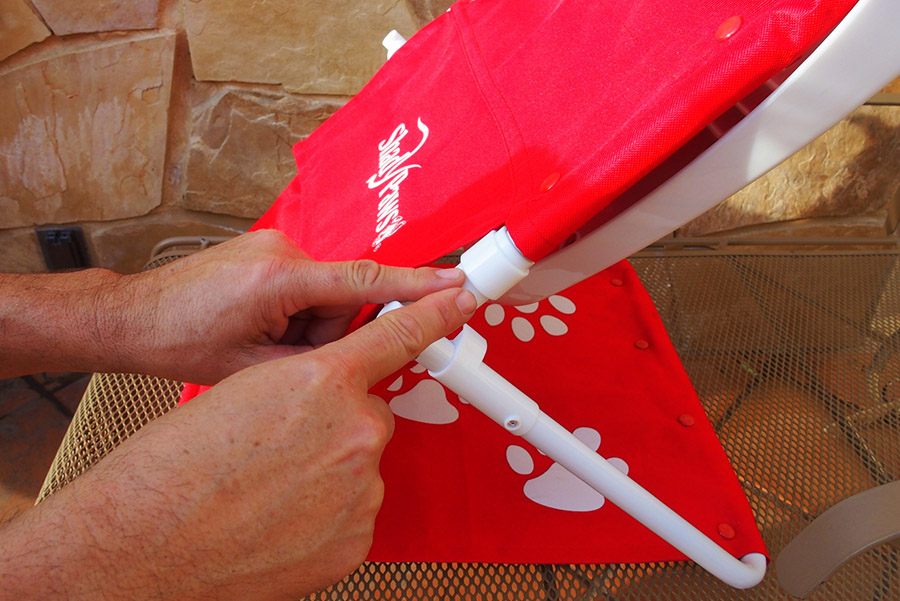 The second step is to push the plastic ring upward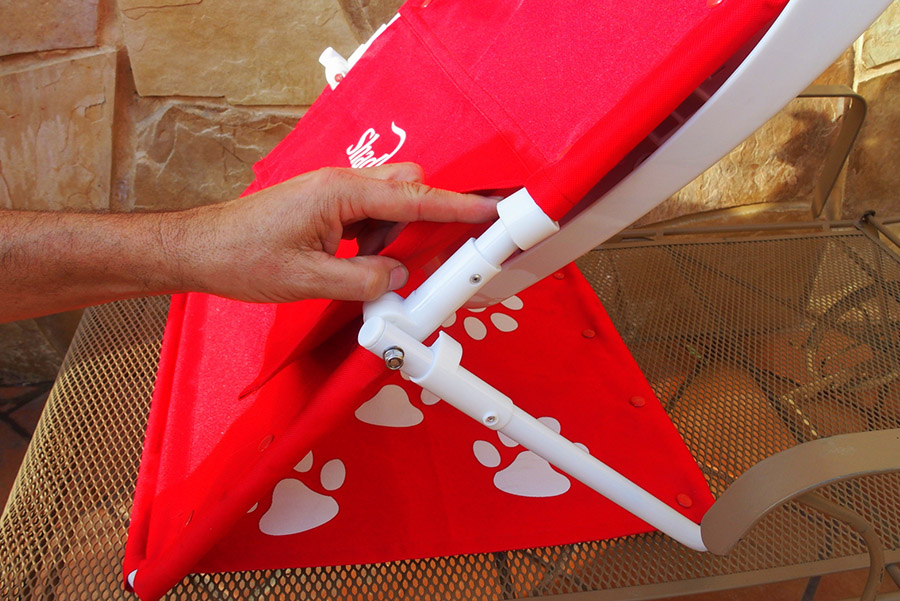 The third step is to keep the ring up and turn ShadyPaws on its canopy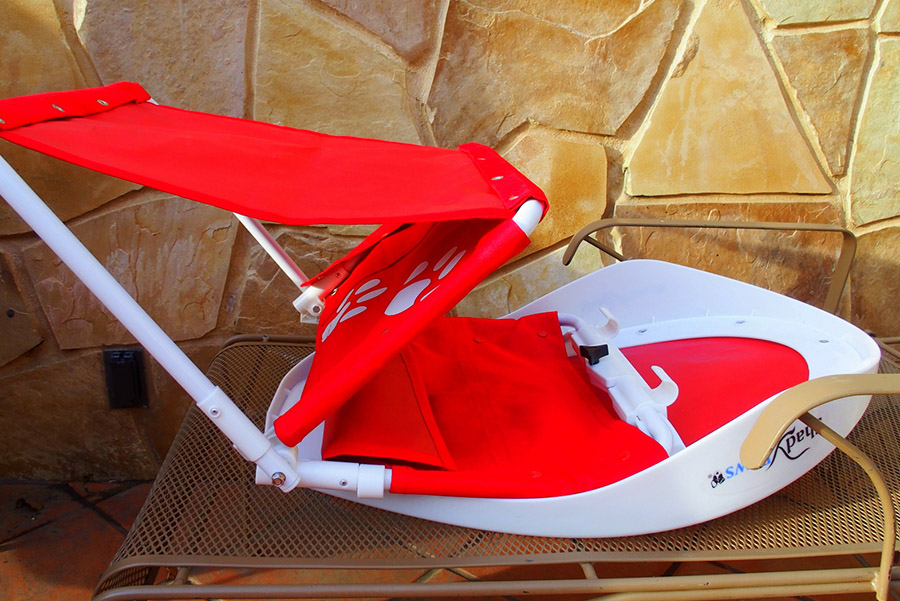 The fourth step is to begin folding the bottom half of ShadyPaws into the middle of the canopy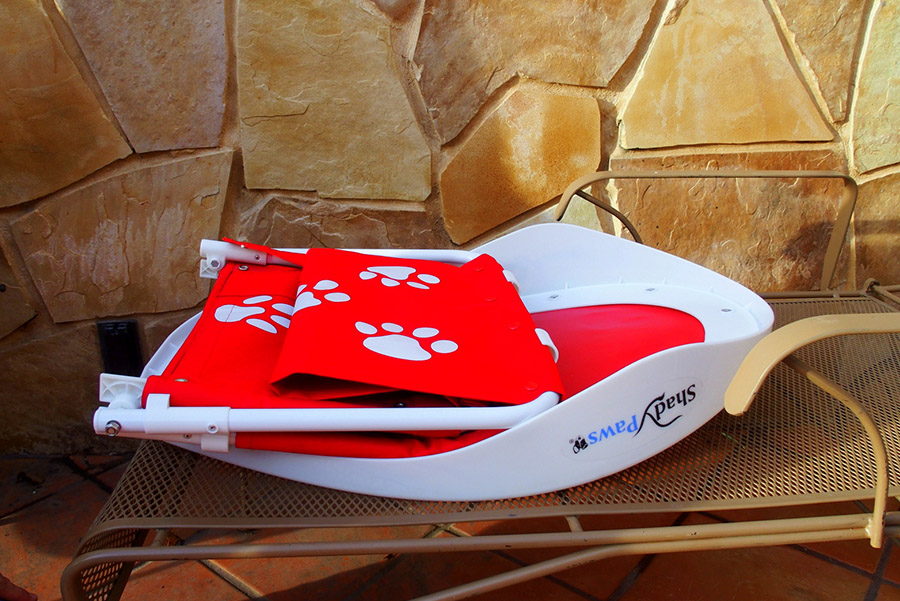 The fifth step is to fold flat and lock securely via white clamps present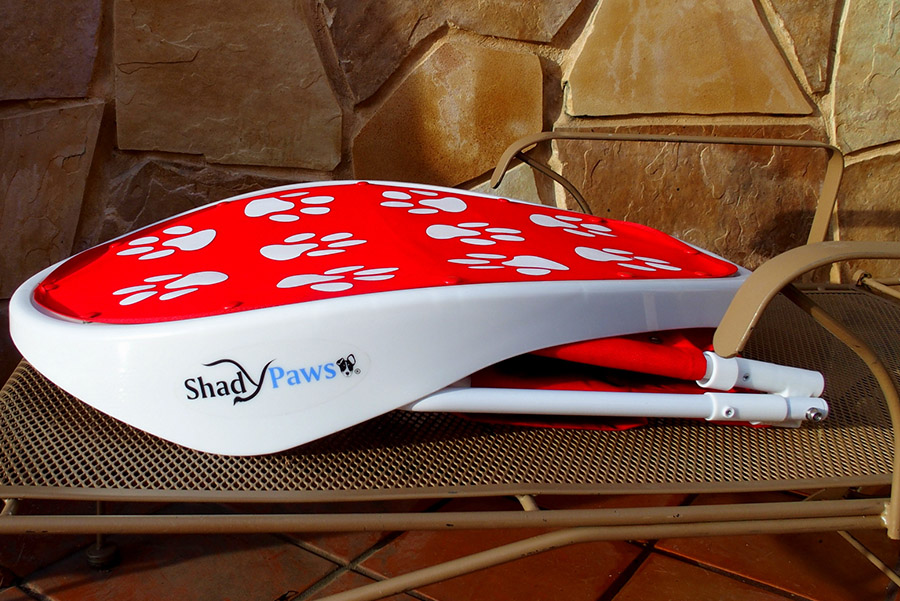 The sixth step is turn ShadyPaws Pet Travel Canopy around and prepare either in its carry bag
or carry alone for your next trip with your best friend!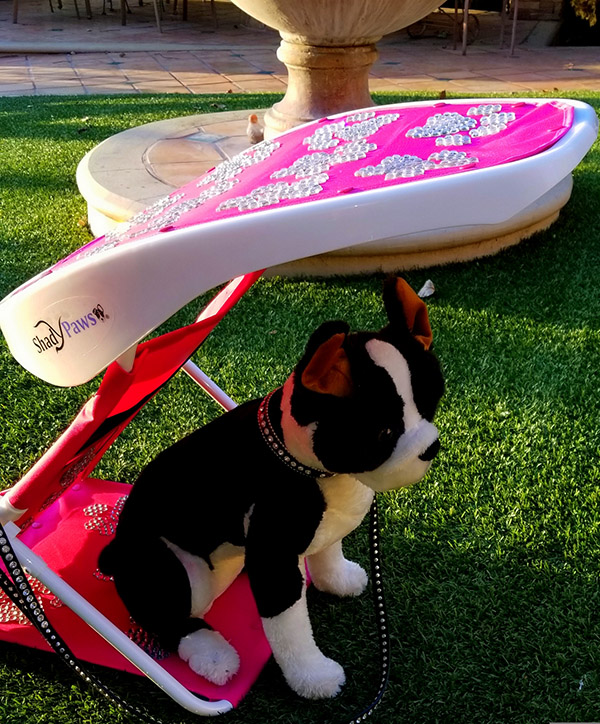 Special Edition
ShadyPaws with the rhinestones
Proceeds of sales goes into the Lisa Vanderpump Dog Rescue Foundation.
Creating awareness regarding the dog torture for meat trade industry.
Every person who buys this fuchsia pink pet canopy lavished in rhinestone paws is creating awareness to stop the black market dog meat trade industry and to save the animals from death by helping to rescue dogs from China.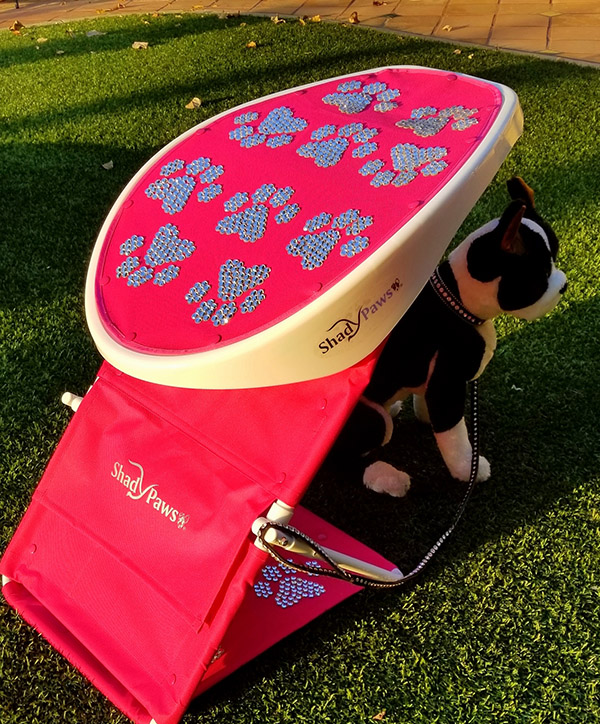 Creator of ShadyPaws Sunshade & CEO Patricia Darquea is supporting Lisa Vanderpump
Creator of ShadyPaws Sunshade & CEO Patricia Darquea is supporting Lisa Vanderpump of Real Housewives of Beverly Hills star, dog lover, and philanthropist Lisa Vanderpump, her husband Ken and Giggy will be hosting an event to celebrate the founding of their World Dog Day. The event is tied closely with the Vanderpump Dog Foundation (www.vanderpumpdogs.org)
The event seeks to celebrate dogs around the world, while simultaneously raising awareness and contributions for the Foundation's initiatives. The event is open to the public, particularly our furry friends, as there will be various booths and activities for dogs. The Foundation is planning to offer an agility park, a dog spa and boutique, a dog trainer, dog contests, a pet psychic, and more!
"ShadyPaws is the answer for shading all pet's at any location!…. Simply place them on furniture or the ground and see the difference immediately!"
Patricia Darquea
ShadyPaws, Inc. Inventor and Creator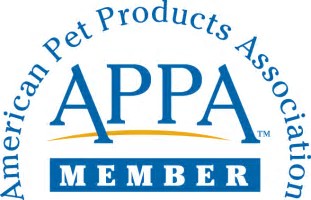 ShadyPaws,Inc. Certified Manufacturer for Pet Industry